He could not get a tune out of a flute at music school, but Swansea City boss Carlos Carvalhal is certainly hitting the right notes at the Liberty Stadium.
Since taking the Swans job on 28 December, the club have improved dramatically and are fifth in the form table ahead of Chelsea and Arsenal.
But when Carvalhal is not plotting an unlikely survival bid, he can be found at gigs or hanging out with rock stars.
"I like rock and roll, I like going to concerts especially," he explained.
Carvalhal's passion for music and association with famous musicians came to light after the former Sheffield Wednesday manager's latest in a long-line of analogies, when he said his side made West Ham "dance to our music… rock and roll," following his side's 4-1 victory over the Hammers.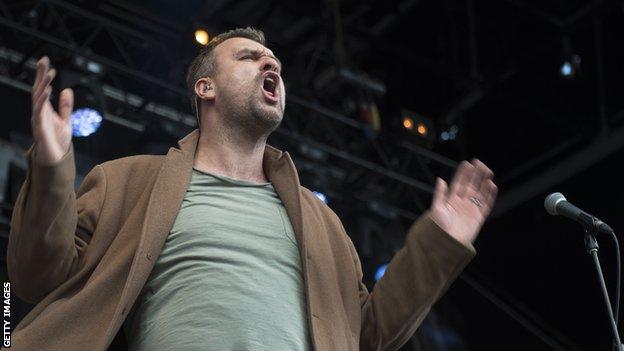 He said after the match he would celebrate by listening to one of his favourite bands, Sheffield's Reverend and the Makers, whose front-man Jon McClure is "good friends," with the former Sheffield Wednesday boss.
Carvalhal also knows Arctic Monkeys and The Last Shadow Puppets singer and guitarist Alex Turner – a former flatmate of McClure's – but explained his musical influences extend beyond the Steel City despite his famous friends.
"John (Rev and the Makers) and I talk often, he's a nice guy and I meet with him in Sheffield, often," Carvalhal told BBC Sport Wales.
"I studied at a music school, from the age of six to about 11 or 12, but I don't have any talent! I don't play anything.
"In my city it was the best school, so I don't know why my mother put me there, all of the other students there were medium height in society, so maybe my mother knew someone there, I don't know, but she put me there.
"I studied music, I learned the flute because I had to choose an instrument, but I was really bad! It is why I want to move (schools) after that.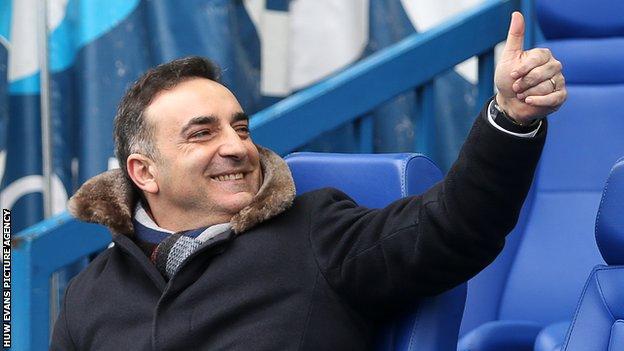 "But I like rock and roll, I like going to concerts especially."
Carvalhal says he is already trying to embrace some Welsh rock bands and enjoys going to watch live music.
"I saw U2 in the O2 and I saw James, I like James, in Portugal we like a lot of James, I have seen them twice. I also saw Green Day in Manchester."